Local Food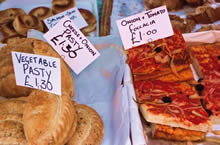 In 2005 we were commissioned to prepare the South East Regional and Local Food Strategy for SEEDA and the South East Food Group Partnership.
Since 1999 we have worked with a number of businesses to develop and launch new food products, farm shops and butcheries across the South East.
Our services to local food businesses include:
Market research
Competitor analysis
Feasibility studies
Investment appraisal
Problem solving
Risk assessments
Preparing business plans
Marketing and promotion strategy
Raising finance
Finding premises
Regulatory advice
Connecting businesses to specialist expertise and specific market outlets
Networking businesses into the local food support networks
Performance improvement
Budgeting and performance monitoring
We network with a team of specialists to broaden our business solutions, to include planning, environmental health, regulatory and legal advice, accessing retail markets, valuation and tax advice. For further reading, we have several reports available for download on the subject of farming and local food resources.